By Amber Rasche, Internet2 Senior Communications Specialist

Internet2 and InCommon are pleased to welcome 18 new members to the InCommon Steering Committee and InCommon Advisory Committees. By volunteering with these committees, community members contribute their insights, expertise, and talents within identity and access management (IAM) to advance the research and education (R&E) community.
"InCommon's steering and advisory committees go beyond the identity and access management challenges of today; this is a forward-thinking community that comprises bright, passionate community leaders who want to solve future IAM challenges for higher education and research," said Kevin Morooney, Internet2 vice president of Trust and Identity and NET+. "This is an exciting and energizing time of year when we welcome new committee members and continue our collective journey to shape the future of InCommon."
The InCommon Steering Committee serves as the high-level governance body that establishes policies and general practices, and it ensures that software and service specifications, recommended practices, and requirements all support the R&E mission of InCommon. This year, three new members have been appointed to the steering committee for a three-year term ending in 2025:
Jeff Erickson, chief of identity and access management services at the National Institutes of Health (NIH);
Bernard (Bernie) Gulachek, vice president for information technology and chief information officer at the University of Minnesota; and
Jim Stewart, chief technology officer at the Utah Education and Telehealth Network.
Marc Wallman, vice president for information technology at North Dakota State University, has been appointed chair of the InCommon Steering Committee. Wallman has served on the committee since 2020, and his tenure as chair is for a three-year term ending in 2025.
New Members of the InCommon Advisory Committees
In addition, 15 new members have been elected to an InCommon Advisory Committee for a three-year term ending in 2025.
The InCommon Technical Advisory Committee (TAC) provides recommendations regarding the technical operation and management of the InCommon Federation. New TAC members are:
Derek Eiler, principal systems engineer at the Nevada System of Higher Education; and
Krysten Stevens, director of technical operations at REN-ISAC.
The Community Trust and Assurance Board (CTAB) represents the InCommon community in the InCommon Federation's trust- and assurance-related programs and initiatives, including Baseline Expectations for Trust in Federation. New CTAB members are:
Warren Anderson, security engineer at the Laser Interferometer Gravitational-Wave Observatory (LIGO);
Matt Eisenberg, chief of the Clinical Informatics Branch, Office of Cyber Infrastructure and Computational Biology, National Institute of Allergy and Infectious Diseases, National Institutes of Health (NIH);
Michael Grady, IAM architect at Unicon;
Scott Green, IAM engineer at Eastern Washington University; and
Kyle Lewis, vice president of cybersecurity strategy at RDCT.
The Community Architecture Committee for Trust and Identity (CACTI) is a standing architecture strategy group with representatives from the global R&E community. New CACTI members are:
Kevin Mackie, associate vice president for digital strategy and technology services at Oregon Health & Science University;
Derek Owens, identity architect at the University of Notre Dame; and
Gareth Wood, IT enterprise architect at the University of Otago.
Margaret Cullen, president and CEO of Painless Security, has been appointed chair of CACTI. Cullen has served on the committee since 2020, and her new appointment as chair is for a three-year term ending in 2025.
The InCommon eduroam-US Advisory Committee (eAC) helps formulate strategies and practices for U.S. and global R&E roaming networks, reports any findings, and makes recommendations to CACTI and Internet2, the eduroam-US operator. New eAC members are:
Kendra Ard, senior director of infrastructure and systemwide support services for the California State University Office of the Chancellor;
Dion Baird, technical architect at Oregon State University;
Nadim El-Khoury, director of network, systems, and infrastructure at Springfield College;
Saira Hasnain, associate vice president and deputy chief information officer at the University of Florida; and
Tania Mahood, director of information technology at Oregon State University-Cascades.
View the full roster of community members who contribute to InCommon's committees and working groups.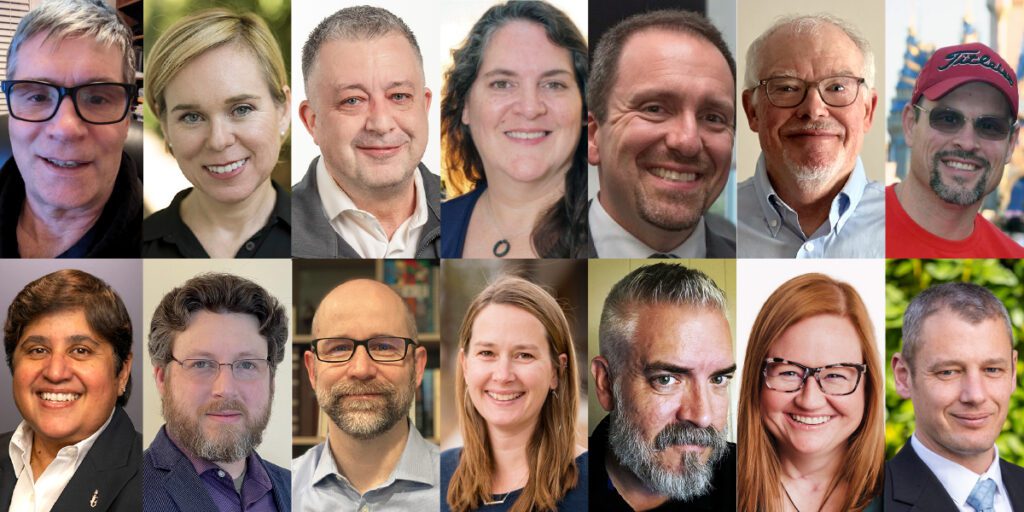 Thank You to Outgoing Committee Members
Thank you to all outgoing InCommon committee members, including steering committee member Michael Berman, formerly the chief information officer at California State University; TAC member Matt Brookover, programmer at the Colorado School of Mines; CTAB members Sarah Borland, formerly the identity and access management analyst at the University of Nebraska, Christopher Whalen, president of RDCT, Jule Ziegler, researcher at the Leibniz Supercomputing Centre, and Robert Zybeck, application analyst at the Portland Community College; CACTI member Licia Florio, senior trust and identity manager at GÉANT; and eAC members Neil Johnson, team lead and network architect at the University of Iowa, and Kim Owen, formerly the program manager for R&E network resources at North Dakota State University. We are grateful to them for their leadership and commitment to supporting the InCommon mission.
Get Involved
Interested in joining an InCommon Advisory Committee? We will open nominations again in fall 2023, so look for future announcements in our newsletter and via our mailing lists.