Grouper
Software: An enterprise group and access management system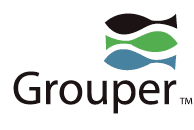 Grouper simplifies access management by letting you use the same group or role in many places in your organization. It automates changes to access privileges as a person's role changes. It empowers the right people to manage access, taking central IT out of the loop.
Grouper is used in the InCommon Trusted Access Platform architecture to manage attribute/role-based authorization services and group memberships in an auditable way based on institutional data from systems of record.
Introduction to Grouper
View this short video for an introduction to Grouper
Grouper also:
Coordinates collaboration

Grouper helps collaboration happen. You can set up groups, roles, and permissions for many purposes, such as populating and administering standing committees, ad hoc research teams, departments, or classes. Key collaborative applications — mailing lists, wikis, calendars, etc. — can use this group, role, and permission information to make authorization decisions.

Gives you a single point of control

Once a person is added or removed from a group, the group-related privileges are automatically updated in all of your collaborative applications. Grouper enables efficient management of the membership roster at a single point.

Lowers cost and time to deliver new services.
Simplifies management by using the same group or role in many places and automating changes to access privileges as a person's roles change.
Increases transparency and audit ability so you can see who can access what with a report.
Integrates with almost any existing access management infrastructure
Who can use Grouper?
Anyone who needs to manage group access to resources — from accountants to zoologists.
A researcher to enable members to participate in an email list or view a web site.
Students who need to manage groups for similar applications as they work together on shared projects and class work.
IT staff so they can delegate group management and enable those leading collaborations to set up and manage their own groups.
Find the Grouper Deployment Guide, Grouper training environment (hands-on scenarios), sign up for Grouper training, or just download the software and get started.