By Apryl Motley, CAE - InCommon Communications Lead
Estimated reading time: 4 minutes
With this year's Call for InCommon Advisory Committee Nominations in full swing, we are highlighting some of our current and past volunteers from the community. (You can volunteer too! Submit your nomination by October 21.)
Five years ago, Keith Wessel began serving on the InCommon Technical Advisory Committee (TAC) and is its current chair. Learn more about Keith and his experience volunteering with InCommon.
Q: How did you first enter the IAM profession?
A: Like many, I suspect, by accident. After getting a B.S. and an M.S. in computer science, and after a year and a half working for Ford Motor Company's IT division in Detroit, I returned to Champaign and took a job full time with campus IT at Illinois.
The university was looking for someone to head up a directory services initiative to replace our 15-year-old home-grown electronic phonebook called PH. The team kind of grew around me as the directory services project integrated with active directory and a whole lot more.
Q: What motivated you to volunteer with the InCommon community?
A: At the request of my best, I began volunteering with the Big Ten Academic Alliance cyberinfrastructure working group, which produced the first popular federated incident response framework, which has since gone on to become SIRTFI. The group was presenting our framework at the Internet2 fall member meeting in Atlanta, and I volunteered to help with the presentation.
I remember how nervous I was at the meeting. However, as soon as I got to the conference and started meeting people, I immediately felt welcomed. That's one of my favorite parts about InCommon. Everyone's welcome and has a chance to participate, share ideas, and find their own comfort level. Everybody gets a chance to be their own part of something really big and really amazing.
Q: In what ways did volunteering benefit you? What did you enjoy most?
A: Volunteering with InCommon working and advisory groups has really helped me to grow, both personally and professionally. If you'd told me 12 years ago that I'd be chairing the TAC, I'd have said you were crazy. The challenge helps me to grow in leadership, learn lots of really useful technical bits, and feel the excitement of contributing to an organization that helps amazing people and amazing institutions do amazing things. I've learned so much about myself and about participating and leading. I've also had a chance to give back to something so much bigger than any individual or even any participating organization.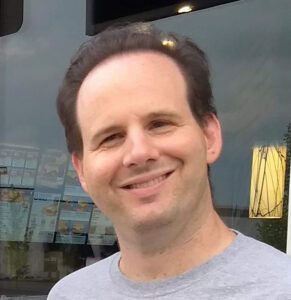 Fun Facts about Keith
Favorite Superhero: Super Chicken ("You knew the job was dangerous when you took it, Fred!")
How He Takes His Coffee: Black. I prefer to not dilute my caffeine. And it's even better if you're buying!
Best IAM Advice He Ever Received (& from whom): Keep it simple. This was a logical extension of the thin registry schema model put forth a few years ago in the early days of the Trust and Identity in Education and Research (TIER) program by Keith Hazelton and Tom Jordan among others, and I look up to both of those gentlemen very much.

Q: Would you recommend volunteering to your peers? Why?
A: Absolutely! Why? Because everyone has ideas and ways of thinking unique to themselves. And, simply put, InCommon needs your ideas! It's the little pieces of creativity from everyone that makes it all work. Get involved with a working group or nominate yourself for an advisory group. You might just surprise yourself, and you won't be disappointed.
Q: What advice would you offer to peers who are considering committee participation?
A: Don't underestimate yourself. We're an open-minded community that welcomes new faces and new opinions. So, don't think you aren't up to it. Go ahead and take the first step to get involved. It's a small investment of your time with huge returns for both you and for the whole community.
Take it from Keith! InCommon welcomes your ideas and participation in shaping the future of the community.
In addition to TAC, these committees are seeking new members:
InCommon Steering Committee
Community Trust and Assurance Board (CTAB)
Community Architecture Committee for Trust and Identity (CACTI)
eduroam Advisory Committee (eAC)
For more information about these groups, refer to these descriptions or visit www.incommon.org/community/leadership. If you have any questions about the nomination process, please contact Sue Gavazzi, InCommon Community Liaison, at sgavazzi@internet2.edu.
We hope that you will consider becoming a volunteer and helping us make a positive impact on the community.