By Kevin Morooney, vice president of Trust and Identity and NET+, Internet2
As I sit down to write this, even after being home for a week, I find myself still in TechEX recuperation mode. I had all of the best intentions for the plane ride home from Denver, when thoughts are fresh, to write down all of the inspirations and thoughts I collected while attending TechEX22. As usual, I sat in a stupor listening to a couple of pointless podcasts while letting the TechEX butter seep into my already soaked brain. It takes awhile to have all the thoughts and feelings sort themselves out at their own pace.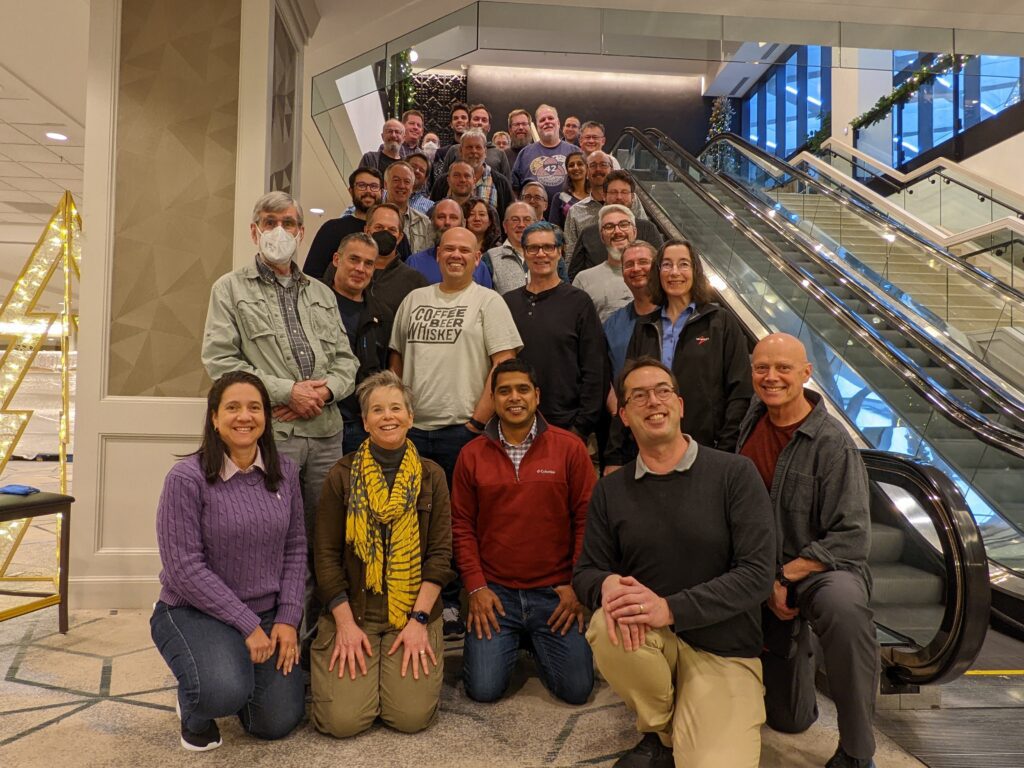 I started on Sunday, spending the day with the FIM4R community (see photo). Monday was spent with mates from REFEDs. Then it was on to all sorts of track sessions, culminating with my favorite community moment of the year – ACAMP. A bonus for this year was watching World Cup football with colleagues, who were as or more invested in it than I was/am.
To help me with my own post-processing, I reached out to some TechEX22 co-attendees to see how they were processing TechEX (Now I find myself wanting to talk to everyone again, poetically fitting for the vibe of the week.). Not too surprisingly, the people I spoke with focused on the people and the vibe, more than they did the content.
When I was a child and teenager, I had two different pen pals. One pen pal was from another country; the other one was half a country away. I poured myself into my letters, wanting to make a good impression on my invisible but still meaningful friends. I enjoyed the feeling of sharing a well written letter but not as much as I did receiving a letter in the mail with a different stamp, and paper bought in a store far away.
I had always tried to imagine how fabulous it would be to actually meet one of my pen pals. I pictured smiles, laughter, eating meals together – enjoying each other's company in a way that pen and paper just can't do. I think this sums up TechEX: It's the place where pen pals can feel the magic of authentic human interaction, being in the same place at the same time, eating the same food, and hearing the same sounds. More than 700 pen pals finally got together.
This was the most dominant theme expressed by the colleagues with whom I spoke.
Here are some slightly edited quotes from my conversations:
"I was genuinely excited about having a cloud track, finally."
"It is a real community defined by receiving and giving from and to each other."
"I met a lot of newbies; it was fun to welcome them into the vibe."
"Sharing, nice, open"
"No one is alone; we all belong."
"The pace was fast. I felt like a squirrel running from tree to tree."
"Reinforces the power of the apprentice/mentor dynamic and how important it is in learning."
"There's nothing like TechEX."
"It is community passion made real."
"Despite the size and pace, it is cozy."
"There is something for everyone; all personality types can feel welcome."
My favorite insight was from a colleague who when asked, "What advice would you give to attendees for TechEX 2023?" replied, "Charge your mental batteries to full before you get here and make some time to recharge them when you return."
I'm so grateful for all the planners, onsite logistical folks, and presenters whose passion for TechEX helped us all have a great week.
Now it's time for a well-earned break. From all of us here at Internet2 and InCommon, I wish you and yours peace, joy and connection as you take time away for fellowship with family and friends. See you in the New Year!
Thanks for CAMPing @ TechEX2022!
Tell us how you enjoyed your time under the tent. We would like to get a sense of which of the curated or pre-planned sessions were most valuable to you.
Please take our
short survey
about the sessions you attended on Tuesday and Wednesday of the conference.