By John McCormack, Writer, Internet2
Want to learn about where InCommon is headed – and also chime in with your opinions about its future direction? You will have a chance to do both on May 17 at 1 p.m. ET during InCommon's May IAM Online webinar, "InCommon's Future: Get In On the Discussion."
During the webinar, Marc Wallman (pictured right), vice president, Information Technology Division, North Dakota State University, and Ann West (left), associate vice president for trust and identity, Internet2, will review the current state of InCommon's identity and access management tools and services and map an implementation plan and timeline for future innovations, with Kevin Morooney (center), vice president of trust and identity and NET+ Programs, Internet 2, serving as moderator.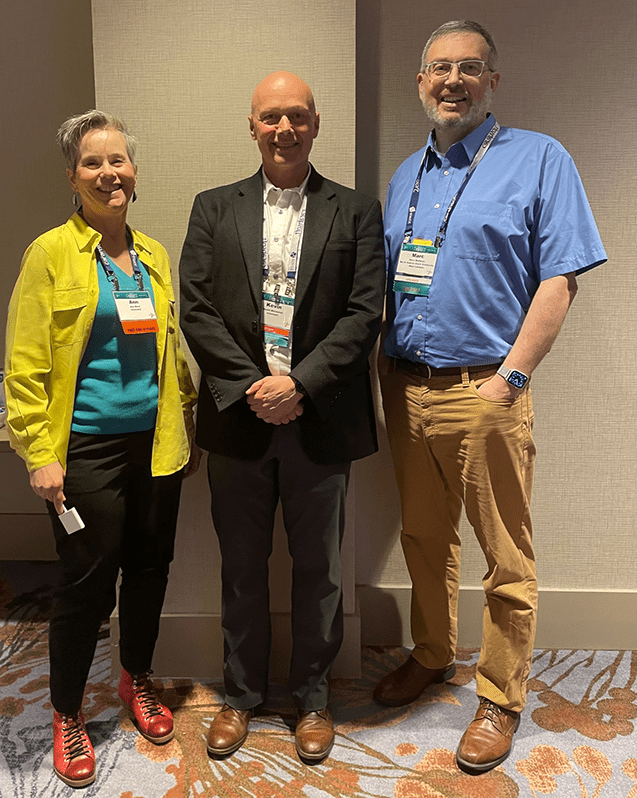 "The InCommon Steering Committee is undertaking a strategic planning project (InCommon Futures 2.0) that will touch many community leaders in higher education IAM and needs the input of community leaders," Morooney said. "We want to raise awareness about the project, why we think it is important, and alert people to opportunities for them to help."
"Given that InCommon is revisiting our plan for the future, it seems critical to take opportunities to communicate to stakeholders and solicit feedback," Wallman said. More specifically, attendees will be able to offer their perspectives on pain points, future needs, and emerging trends in higher ed and research.
After a great session at the Internet2 Community Exchange last week in Atlanta, Wallman and Morooney are looking for more discussion and feedback as they organize to get this project started. "Identity management is what ideally knits all our disparate services into a cohesive experience to our faculty, staff, and students," Wallman observed. "Nothing else comes close."
Morooney agreed that the higher ed community needs to carefully consider identity management issues. "Identity and access management needs in higher education remain uniquely challenging," he said. "While well-financed IAM solutions have come a long way over the last two decades, many challenges remain in higher education."
With these challenges in mind, what's the expected output of the InCommon Futures 2.0 planning process? "It establishes a shared strategic direction for the community and Internet2's Trust and Identity Division for the next five years," West said. "It sets the stage for further requirements gathering and shared work."
Join Us!
Already registered for IAM Online in the last year? You will automatically receive Zoom coordinates for current and future IAM Online webinars – you only need to register once!
Haven't attended an IAM Online? Register Now!
Connection details will be emailed directly to all registrants on the morning of the event.
Got ideas for IAM Online? Let us know.
ICYMI
Full Slate of Trust & Identity Sessions Scheduled for 2023 Internet2 Community Exchange