"Identity management is what ideally knits all our disparate services into a cohesive experience for our faculty, staff, and students," observed Marc Wallman, current chair of the InCommon Steering Committee and vice president, Information Technology Division, North Dakota State University. "Nothing else comes close."
Last month, Wallman and Kevin Morooney, Internet2's vice president of trust and identity and NET+ Programs, kicked off InCommon Futures2, a strategic planning project being undertaken by the InCommon Steering Committee to help guide a vibrant future for InCommon and explore the identity and access management (IAM) challenges facing the research and higher ed community.
Get In On the Discussion
Complete this form to let us know your initial thoughts about the project and how you might like to be involved.
Morooney agreed that the higher ed community needs to carefully consider identity management issues. "Identity and access management needs in higher education remain uniquely challenging," he said. "While well-financed IAM solutions have come a long way over the last two decades, many challenges remain in higher education."
With these challenges in mind, what's the expected output of the InCommon Futures 2.0 planning process? According to Internet2 Associate Vice President for Trust & Identity Ann West, who is helping to lead the effort, "It establishes a shared strategic direction for the community and Internet2's Trust and Identity Division for the next five years and sets the stage for further requirements gathering and shared work."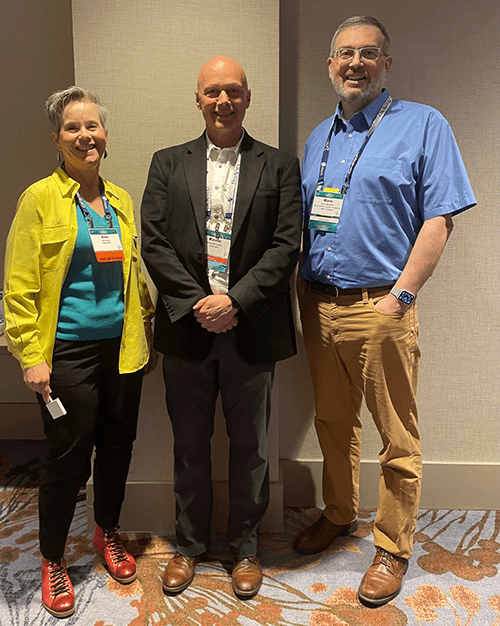 Is There More Information Available?
To learn more about InCommon Futures2, check out this blog post, recapping Kevin and Marc's presentation at the 2023 Internet2 Community Exchange in Atlanta last month.
InCommon Futures2 was also the topic for our May IAM Online webinar, "InCommon's Future: Get In On the Discussion." Watch the recording | Download the slides.
How Can You Participate In The Process?
This summer, in consultation with the Steering Futures2 Working Group, we'll be announcing some specific mechanisms we're putting in place to gather the community's input. They include a survey, focus groups, and one-on-one interviews. Please check the InCommon website for updates.

Six Guiding Principles for InCommon Futures2
Our work together must stand up to the lens of the broader community. We must assume that we operate in transparency by default.
It is essential to foster confidence and inclusion in our activities and messaging.
We want individuals to see themselves (or someone like them) as contributing to the process in some way.
Our decisions, strategies and recommendations can be traced to community or research-driven data or citations.
The actors guiding this process are the community and Internet2. All decisions are driven by consensus by the Steering Futures2 Working Group.
We will respect the opinions, business needs, and time of all members. We are advocates for each other.
In the meantime, complete this form to let us know your initial thoughts about the project and how you might like to be involved.