Estimated reading time: 2 minutes
In March 2020, the international science community asked schools and research organizations to help make it easier for researchers and scientists to join global collaborations formed in response to the COVID-19 pandemic.
A key component to enabling that collaboration is for an identity provider to release a few pieces of information to qualifying resources in the REFEDS Research & Scholarship Category (R&S). These resources include more than 140 research and academic collaborations or supporting services. By releasing the information defined in R&S, identity providers enable users to access these collaborations quickly without having to navigate complex information release negotiations.
The community responded. By Summer 2020, 175 institutions had begun supporting releasing information to R&S. R&S adoption received another boost this Spring when the National Institute of Health (NIH) launched its effort to adopt several federated access requirements, including R&S.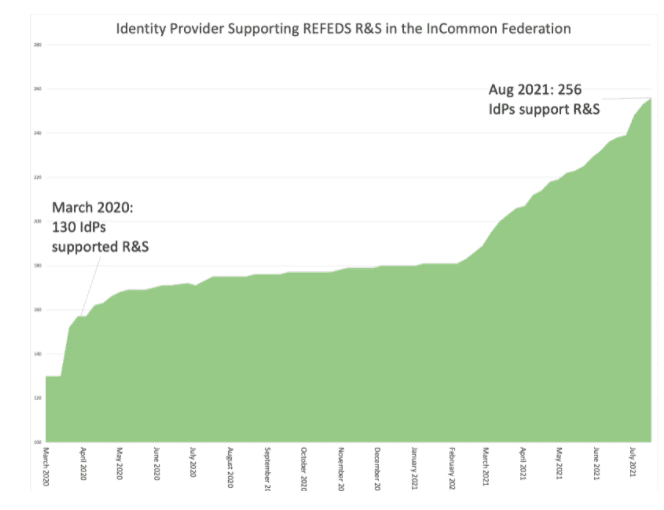 As of the start of August 2021, 256 InCommon identity providers have flipped the switch and are now supporting R&S, nearly doubling the R&S support in the community. See the full list of R&S Supporting organizations.
Is your institution not supporting R&S yet? Make it easier for your faculty and staff to participate in these important collaborations by joining the R&S club. Getting started is straightforward. Read about R&S and follow these simple steps to join the club.